Hastings Pier awarded lottery funding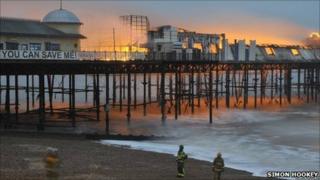 Hastings Pier has been awarded £357,400 towards a multi-million pound project to save the fire-damaged structure.
The plan involves the restoration of the substructure, deck and railings, which were wrecked by fire in October.
The Hasting Pier and White Rock Trust has not received a final decision on its full bid for £8.75m from the Heritage Lottery Fund.
The trust said the scheme would make the pier "structurally sound and a great investment for the future".
"It will be a catalyst for the economic, social and cultural regeneration of Hastings and the British seaside," it added.
Plans include an education programme to offer apprenticeships to help develop the next generation of pier engineers.
'Extremely impressed'
The "People's Pier" will be run by a management company owned by community shareholders, and aims to provide employment and volunteering opportunities for the people of Hastings.
Stuart McLeod, head of the Heritage Lottery Fund in the south east, said it was "extremely impressed" by the trust's ability to mobilise enthusiastic support from the community.
"The trust is right at the start of their journey to fully restore the pier and we look forward to working closely with them in the coming months as their plans begin to take further shape," he said.
Hastings Borough Council leader Councillor Jeremy Birch said: "This is great news for the town and a huge tribute to the campaigners in the Hastings Pier and White Rock Trust who have put some much time and effort into this."
The next public consultation on the future of Hastings Pier will be held on 4 June.