Lewes climate activists face eviction hearing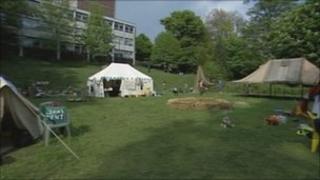 Climate activists occupying the site of a disused school in East Sussex are due in court on Tuesday after being served with an eviction order.
East Sussex County Council said it had no choice but to go to court to regain possession of land at the former St Anne's school in Lewes.
Protesters from Brighton Climate Action entered the site on 22 April at the start of the Easter weekend.
They said they were drawing attention to the special nature of the site.
The protesters have said the Climate Action protest finished on 1 May and that the site was now being occupied by a group called St Anne's Diggers.
They said the school, which has been disused for several years, is a prime development site and they wanted to prevent it being sold for housing.
The council said it had no imminent plans to demolish the building or sell the site.
'Last option'
However, it said it was concerned about the safety of the building, as well as other environmental damage caused by the occupation.
"Going to court is the last option but we have been left with no choice," said director of corporate resources Sean Nolan.
"We had hoped the protesters would honour their initial promise to leave within a week but that has not happened.
"We have been as patient as possible but we are now beginning to get complaints about the camp from near neighbours.
"At some point we have to protect our property on behalf of the council taxpayer."
The council said the building had been boarded up before the occupation because of fears for its structural safety, including damaged asbestos that had become unstable as a result of vandalism.
Mr Nolan said the site would not be sold immediately because of the depressed nature of the property market.
The council would look at some form of community use for the grounds but only once it had gained possession of the site and secured the building.
Tuesday's eviction hearing will be held at Brighton County Court.