Olympic flame in Brighton and Hastings for torch relay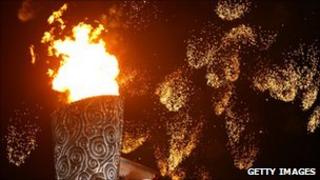 The Olympic flame will visit Brighton and Hastings before being taken into London for the start of the 2012 Games.
The torch arrives in the UK this time next year and will be taken on an 8,000-mile journey around the UK, which includes the two south coast locations.
The Olympic flame will travel for about 12 hours a day. All the evening and island stops have now been announced.
The torch will be in Brighton and Hove on 16 July, 2012 and Hastings in East Sussex on 17 July.
Pauline Freestone, London 2012 co-ordinator for Brighton and Hove City Council, said the city's event, likely to take place in Madeira Drive, would focus on Brighton's creativity.
'Global audience'
"We're delighted to be chosen as one of the venues," she added.
"We feel it shows our residents, visitors and the world that Brighton is one of the UK's iconic places to visit, work and live in.
"We're hoping to showcase our local artists, comedians, and street dance to show the global audience what Brighton is all about."
In total, there are 74 evening and island stop-overs on the London 2012 Olympic torch relay route, unveiled on Wednesday.
Organisers have said 95% of the population will be within a one-hour journey time of the torch relay.
The torch's final destination is the Olympic Stadium on 27 July when the lighting of the cauldron at the opening ceremony will signify the start of the Games.
'Golden opportunity'
Hastings Borough Council leader Jeremy Birch said it was good news for the town and people were delighted that there would be an evening celebration.
He said the evening show would be in the Stade Open Space in the heart of the historic Old Town, which was "particularly fitting" for such a historic event.
Mr Birch said: "I know that detailed planning is about to start. We have a great history of holding events here in Hastings, and I do hope that the many voluntary organisations who help with these will be able to get involved in the torch relay too."
He added: "I hope that we will be able to include our many unique attractions, like our cliff railways and fishing fleet, in the torch relay and celebrations if at all possible."
Businesses in the area would be using the Olympics as a "shop window" for Hastings and Rother, he said.
Mr Birch added: "It will be a day to remember but we need to use the events of that period as a golden opportunity to push our town into the world's vision."