St Anne's School activists defy eviction date in Lewes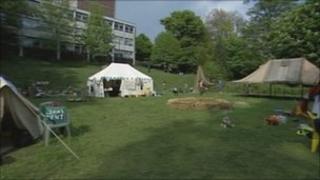 Activists camped in the grounds of a disused Sussex school have pledged to stay - despite a court issuing an eviction notice.
Protesters at St Anne's School in Lewes had been told to leave by Wednesday in a possession hearing at Brighton County Court heard earlier this month.
But the group, which calls itself St Anne's Diggers (Stand), has said it will continue to occupy the site.
East Sussex County Council said it was disappointed.
Stand took over when an earlier protest ended on 1 May. It wants to prevent the school being sold for housing and claims the occupation and its aims enjoy local support.
In a statement, the Tory-run local authority, said: "We will be seeking further advice from the court appointed officials on how to proceed.
"As we have stated repeatedly, we remain committed to exploring with the local community the potential for some form of community use of the grounds of the school.
"However, we will only do this once we have regained possession of the site and are able to secure the building."
Maz Flower, a spokeswoman for Stand, said the group would remain until decisions were made about the land "by the people and for the people".