Sussex Police retirement plans approved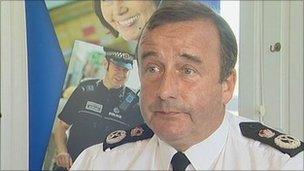 Up to 260 Sussex police officers with 30 years service could be made to retire as part of savings plans.
The force wants to save £52m by 2015 and Chief Constable Martin Richards has recommended the use of legislation to order some officers to leave.
Sussex Police Authority (SPA) approved the use of the legislation under regulation A19 of the Police Pensions Regulations 1987 on Thursday.
Steve Waight, who chairs the SPA, said it was the "only option available".
At least 300 police staff have already left Sussex Police since last November through a voluntary redundancy scheme.
But the force needs to lose about 500 police officer posts by 2015 and a further 250 police staff posts.
Mr Waight said: "We have no desire to require many good officers to retire, but it is the only option available to deliver these imperative plans."
Regulation A19 states that police officers can be "required to retire" if their retention would "not be in the general interests of efficiency".
Other police forces across the country are implementing the legislation.
Chief Constable Richards said he knew of 75 people who will have reached 30 years service by the end of the financial year.
He said: "I do not welcome the prospect of any officers being required to retire through no fault of their own and undoubtedly neither will many of them.
"However, the police authority's approval was essential if we are to deliver our plans for effective and sustainable policing."
Plans to close police stations in Hove and Eastbourne and a building in Worthing were also discussed but a decision on whether to proceed will be made at a later date.
Related Internet Links
The BBC is not responsible for the content of external sites.