Chichester stray dog numbers 'nearly double'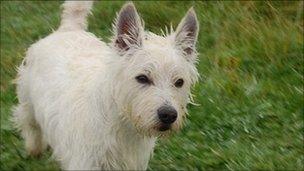 Numbers of unclaimed stray dogs have almost doubled on the streets of Chichester with 56 taken in this year, compared with 32 in the previous year.
District council dog wardens are urging people not to ditch their unwanted pets on the streets.
Dog control officer Viv Barale said most of the strays which remained unclaimed were dogs with aggressive temperaments that could not be rehomed.
Anyone who has concerns about a dog or needs advice should call the council.
Ms Barale said 197 dogs were picked up between April 2010 and April 2011, but 141 were returned to their owners, while 56 remained unclaimed.
Out of the 56, 43 have so far been rehomed or sent to a dog rescue centre.
Ms Barale said owners should make sure they can afford a dog and exercise it daily.
Dogs are also required to have a collar and an identity tag by law, she added.
Owners have seven days to claim stray dogs before the council rehomes them.
Related Internet Links
The BBC is not responsible for the content of external sites.