Boeing 787 Dreamliner simulator lands in Sussex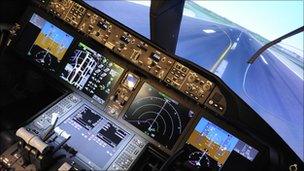 Boeing's journey towards take-off for its new "eco-friendly" aircraft has advanced with the introduction of a flight simulator near Gatwick airport.
The first 787 Dreamliner, which was initially earmarked for delivery in May 2008, has been beset by delays, and is now scheduled to arrive this autumn.
The introduction of flight-training facilities in Crawley, West Sussex, is being seen as a key breakthrough.
Pilots using the simulator could qualify to fly in as few as five days.
Boeing describes the development as "an exciting milestone".
The Crawley simulator - part of a suite of computerised training devices for the new aircraft - is one of only eight, based at five sites around the world.
The others are at Seattle, Singapore, Tokyo and Shanghai.
Pilots working for Thomson - the first UK airline scheduled to receive the 787 - will start using the Crawley facilities in June.
But staff from other European airlines will also train with the new simulator, which features 98% "real" aircraft data for more authentic flying experience and better feedback.
Depending on the pilots' experience, they could be ready to take off in as little as five days if they have previously flown Boeing's 777, which shares many features. Other pilots could need up to 20 days' tuition.
Despite the similarities with its predecessor, the 787 is regarded as Boeing's most progressive aircraft, made in part of composite plastic and providing a roomier, more comfortable cabin.
Its lighter weight and advanced engines should enable it to emit 20% less carbon dioxide than other planes of comparable size, according to the aircraft giant.
But the programme has suffered a string of delays, both in getting the aircraft off the ground and delivering to its launch customer, Japan's All Nippon Airways.
The latest delivery date is autumn this year.
Related Internet Links
The BBC is not responsible for the content of external sites.