Bluebell Railway races to clear rubbish from cutting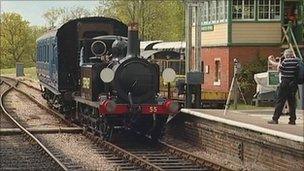 Volunteers rebuilding a historic stretch of steam railway in Sussex are racing against time to finish clearing thousands of tons of household waste.
The Bluebell Railway needs to raise nearly £1m to clear Imberhorne cutting by next April so the service can be extended two miles to East Grinstead.
Clearing the waste currently costs £25 per ton, but tax changes mean the cost will go up to about £90.
Chairman Roy Watts said the deadline had provided a focus for fundraising.
The Bluebell Railway currently runs for nine miles from Sheffield Park to Kingscote but the extension will join it up with the national railway network and potentially attract more visitors.
The 546yd (500m) Imberhorne cutting was filled with domestic waste from East Grinstead after the British Rail line closed in the 1950s.
It is being removed to a landfill site in Bedfordshire but landfill tax increases announced in 2008 will take effect next year.
"We were aware that this was going to be on the cards and since then we have worked really hard to try and raise the funds to complete the project in time," said Mr Watts.
Digging began in 2008. The next seven weeks' work has been paid for, at a cost of £125,000 per week, and there is about six weeks' digging left after that.
The project has been funded in part by selling "tenner for the tip" certificates on the trains.
"If we can break through and lay the track, all being well we can start running trains this time next year," said Mr Watts.
Related Internet Links
The BBC is not responsible for the content of external sites.