Winnie The Pooh corner shop in East Sussex up for sale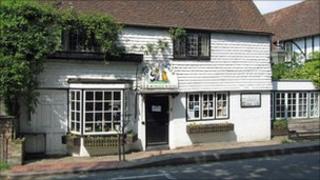 The historic Winnie The Pooh shop, Pooh Corner in East Sussex, has been put up for sale for about £600,000.
The 300-year-old Grade II Listed property was established as Pooh Corner in 1978 by its current owner.
In the 1920s, Winnie The Pooh writer AA Milne lived in a farmhouse on the outskirts of Hartfield village, about a mile away from the shop.
He set his stories about Christopher Robin, his bear and friends in and around nearby Ashdown Forest.
Pooh Corner features a gift shop with one of the largest selections of Pooh items, Piglet's tea room and gardens and a holiday flat.
After 33 years of promoting Winnie The Pooh and "Pooh Country", owner Mike Ridley wants to retire.
"Pooh's been so much my life over the years," said Mr Ridley.
"We get Pooh fans from all over the world. They want to make contact where Christopher Robin had his adventures with his nanny - it comes alive for people when they visit the area and come into the shop."