Princess of Wales's Royal Regiment in Crawley parade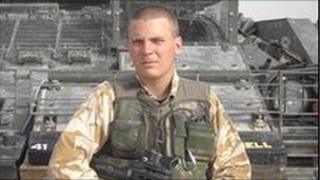 Soldiers from the Princess of Wales's Royal Regiment have taken part in a homecoming march in a West Sussex town.
About 250 soldiers who have recently returned from Afghanistan paraded through Crawley.
It began at the Territorial Army Centre in Kilnmead and headed along The Boulevard and the High Street.
Pte John Brackpool, 27, who was from Crawley and in the regiment, died after being shot in a battle in the Lashkar Gah area of Aghanistan in July 2009.
Last year his name was added to the town's war memorial.
Mayor of Crawley, Councillor Carol Eade, described the parade as "a prestigious event".
Following the march there was a service at St John's Church in the High Street.
The Princess of Wales's Royal Regiment is the county regiment of Surrey, Kent, Sussex, Hampshire, Middlesex, the Isle of Wight and the Channel Islands.
The regiment has three battalions - two regular and one territorial - and members of all three battalions have served on operations in Afghanistan and Iraq.