Thanet police set up a dispersal zone in Broadstairs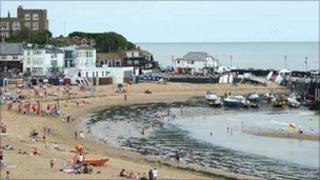 A dispersal order to tackle anti-social behaviour is to come into force in Broadstairs for the summer.
Kent Police and Thanet District Council have taken the measure in response to concerns about nuisance behaviour in the town during the holiday season.
Dispersal orders mean that officers can break up groups of two or more people who are causing problems within the area.
The order will be in place from 1 July until 6 November.
Pc Sue Luck, anti-social behaviour officer for Thanet, said: "In the past Broadstairs has experienced problems with groups of young people congregating during the lighter evenings.
"Unfortunately a small minority of these young people are drinking and the unwelcome result of this is anti-social behaviour, which has included instances of criminal damage, assaults, urinating in the streets and the use of offensive language."
The dispersal order zone includes the Memorial Recreation Ground in Lawn Road, Viking Bay, the High Street, Broadstairs train station, Pierremont Park, the bandstand and promenade.
Police officers can order people to leave the area for a period of time. However, if they return before that time is up they can be arrested for breaching the dispersal order which could mean a fine or three months imprisonment.