Crawley hosts worm charming contest in church grounds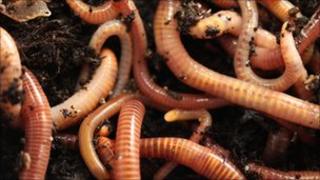 A worm charming contest will take place in Crawley to raise money for a church.
The contest at St Peter's Church, in West Green, will see competitors attempt to lure as many worms as possible out of the ground.
It has been organised by Barbara Conley and her nine-year-old granddaughter Talia, who have established a set of strict ground rules.
Entrants are not allowed to dig up the worms or use water or chemicals in an attempt to bring them to the surface.
Mrs Conley said entrants would each be assigned a two metre square piece of church lawn and they would have an hour to collect as many worms as possible.
"You're not allowed to harm a worm or dig one up and you cannot used chemicals or water," she said.
"But you can dance, sing, bounce balls or do pretty much anything else to bring the worms up.
"I've heard two little girls will be bringing their pogo sticks."
'Strict on cheating'
The World Worm Charming Championships has been taking place in a village near Nantwich, Cheshire, since 1980.
Mrs Conley said her granddaughter had been giving talks about the contest in a school assembly, at a Baptist church and in front of Brownies and Girl Guides.
"We'll be very strict on cheating," said Mrs Conley.
"I've had one unnamed person ask if he could use washing up liquid, so we will have to be on our guard."
The contest starts at 1000 BST and costs £3 to enter.