Public meetings to discuss Sussex fire services merger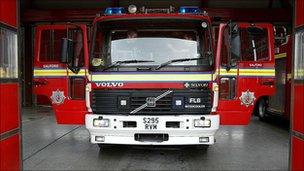 The first of two public meetings in West Sussex to discuss a proposed fire service merger is taking place.
East Sussex Fire Authority and West Sussex County Council began exploring options for closer working in December.
Officials say a merger will reduce costs but still maintain services.
Members of the public have until early October to give their opinions, with public meetings being held in Crawley on Thursday and Worthing on 19 July.
Both meetings start at 1900 BST and take place at the Fire Service training Centre, in Northgate Avenue, Crawley, and Worthing Library, in Richmond Road.
The meetings will be chaired by Pete Bradbury, county council cabinet member for public protection, and will include a presentation from Max Hood, the county fire officer.
Mr Bradbury said: "This is an opportunity for us to hear peoples' views on the proposal to merge the two fire services.
"In the current difficult financial climate, we believe this innovative approach of merging the fire services could enable us to continue to deliver excellent services and improve our operational capability, while reducing back office, management and administration costs.
"While much depends on the approach of the government, the views of the public are equally important to us and no decision will be made until the results of the consultation have been considered."
Government approval would be needed for a merger which would not come into effect before April 2013.
Related Internet Links
The BBC is not responsible for the content of external sites.