Seven charged over Ford open prison riot near Arundel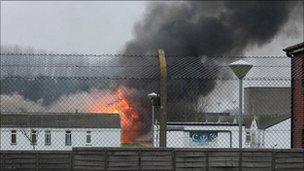 Seven men have been charged following a riot at an open prison in West Sussex.
Six are charged with an arson offence and violent disorder and the seventh is charged with violent disorder after the riot at Ford Prison, on New Year's Day.
During the disturbance at the jail near Arundel, several buildings were burnt to the ground.
The Crown Prosecution Service (CPS) said it had authorised Sussex Police to charge the men who would appear before Chichester magistrates on 29 July.
Simon Ringrose, from the CPS, said: "I have today advised Sussex Police to charge seven men in relation to the mass disturbance at HMP Ford Prison during the early hours of New Year's Day this year during which a number of inmates were engaged in a concerted attack on prison property and threats made to other inmates and prison officers."
Roche Allen, Lennie Franklin, Ryan Martin, Thomas Regan, Lee Roberts and Paul Hadcroft - are all charged with arson being reckless as to whether life endangered and violent disorder.
The seventh, Carniel Francis, is charged with violent disorder.
HMP Ford accepts category D offenders who have under two years left to serve.
The prison holds about 500 inmates and in the early stages of the disturbance, two officers and four support staff were on duty.
Related Internet Links
The BBC is not responsible for the content of external sites.