Eastbourne food bank set up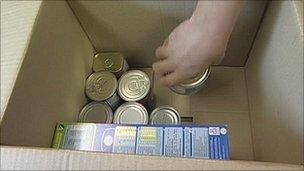 A food bank has been set up in Eastbourne to help people who are struggling to afford groceries.
The project, among the first of its kind in the south east outside London, began collecting in May and now the food is starting to be distributed.
The food is donated and frontline care professionals identify people in need who then receive foodbank vouchers.
Homeless teenager Daniel Scott said: "People like me... can't afford food so they need an extra hand."
He said: "It's so simple, you just get referred there. The staff are so nice, they give you the food and just the whole idea I think is fantastic."
Howard Wardle decided to set up the food bank after working as a debt counsellor and providing food to people in strife through the church community he is part of. He said some people were being forced to make a choice between paying a bill or buying food.
He said: "The fact that food is expensive to buy, that people are finding their hours cut down, that the benefit system, although it is good, it takes a bit of time sometimes to get it sorted out and there's pressure on.
"People are under pressure, families are under pressure."
The foodbank network is part of The Trussell Trust, a Christian charity committed to community action against poverty and marginalisation in the UK.
Related Internet Links
The BBC is not responsible for the content of external sites.