Inspectors find Tinsley House removal centre 'improved'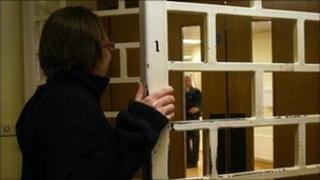 A Sussex immigration removal centre that was criticised for its treatment of women and children has improved, prisons inspectors have said.
Tinsley House, near Gatwick Airport, was criticised in 2009 by inspectors.
At the time, a report said conditions for women and children had worsened and were "wholly unacceptable".
But Chief Inspector of Prisons Nick Hardwick said detainees now felt safe, their relationships with staff were good and there was little bullying.
'Plans to hold children'
Use of force was "low" at the centre and detainees had good access to legal advice and UK Border Agency (UKBA) staff, he added.
Tinsley House, which is run by security firm G4S for the UKBA, can hold 124 people plus eight families.
Mr Hardwick said: "Tinsley House had improved considerably since our previous visit, with more dedicated management attention and improvements in most key areas.
"At the time of the inspection, the immigration removal centre held no single women or families with children whose treatment we have previously highlighted with great concern."
But his report did criticise an "objectionable and distressing practice" in which "reserve" detainees are taken to the airport in case others could not board flights for deportation.
'Hundreds of complaints'
In 2009, inspectors suggested G4S management teams had let Tinsley House slip off their radar after they opened the neighbouring Brook House, another removal centre, that year.
Dame Anne Owers, who was then Chief Inspector of Prisons, said Tinsley House had effectively become a satellite of the far larger Brook House.
The opening of Brook House had led to Tinsley House becoming "almost an afterthought, housing some poorly cared for children and a small number of scared and isolated single women", she said.
And this year, a Freedom of Information request submitted by the BBC revealed G4S received more than 700 complaints in 2010.
A G4S spokesman said it took the complaints seriously, but the level of substantiated complaints was extremely low and they were of a minor nature.
More than half of all the complaints were made at Brook House, which holds convicted foreign criminals facing deportation.