Sussex Police warning over Brighton Pride illegal raves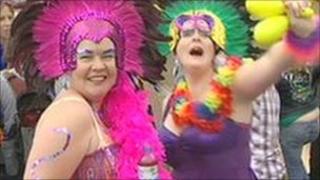 People planning illegal raves during Brighton Pride have been warned by police not to come to the city.
The main part of the festival, which will take place at Preston Park on Saturday, is expected to attract more than 50,000 revellers.
Sussex Police said in previous years revellers had set up unauthorised events with unlicensed sound systems.
The force asked people to report sightings of lorries or large numbers of vehicles gathering on the beach.
Last summer's Brighton Pride celebration, which began in the city as a gay protest in the early 1970s, was the biggest in its 18-year history, with more than 160,000 people taking part in the free event.
'Keep people safe'
The week-long festival will also include the annual parade from Madeira Drive to Preston Park. The ticketed event will feature live music and a fun fair.
Ch Supt Graham Bartlett said illegal raves had caused public safety concerns.
He said: "Many successful events are organised in the city and they are planned to ensure that those attending have fun, confident that everything has been done to ensure their safety.
"Unauthorised events do not come with these assurances and we will seek to use the resources in place and the relevant powers to keep people safe.
"People coming along to have a picnic and enjoy the day with their friends are welcome."
Last year St John Ambulance treated 220 casualties at the festival and 11 were taken to hospital.
This year the charity will be providing 120-strong team of medical staff with three treatment centres at Preston Park.
Dan May from Sussex St John Ambulance said: "Many of the patients we treated last year were suffering from alcohol related conditions and injuries.
"We urge people to be a bit sensible about the way they celebrate because no party goer wants to end up as a patient."