Hawks to scare pigeons from Brighton's Amex stadium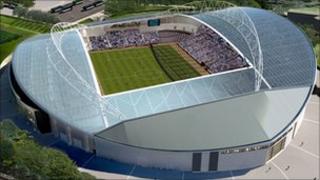 Hawks are being used to scare seagulls and pigeons away from Brighton & Hove Albion's new £93m ground.
The club said the birds of prey would deter pigeons from nesting and help keep the Amex stadium clean.
Operations manager Richard Hebberd said the birds would be brought in at regular intervals.
He said: "They just scare everything in their territory so after a while the pigeons and the seagulls learn to not go to a particular location."
Since they left the Goldstone Ground in 1997, the club have been without a permanent home.
But after sharing with Gillingham and then using the Withdean athletics stadium, they kicked-off the season in the Championship at the Amex stadium on Saturday.