Kids' summer diaries wanted for online time capsule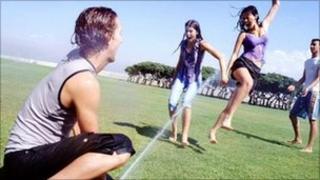 Families are being asked to contribute a diary of their day to form part of an online archive capturing the lives of everyday people.
The project brings together the Mass Observation Archive at the University of Sussex and the government's Change4Life health campaign.
The archive was set up in the 1930s to let people record their lives in diaries for future generations.
It is the first time children have been asked to take part.
Kirsty Pattrick, a project officer, said the archive wanted to record what families were doing on 13 August.
'Capture for posterity'
She said: "In the past we've gathered opinion on topics from wartime rationing to the death of Princess Diana.
"This will be an opportunity for us to focus upon a moment that looks to pull together what children and families are doing at a set time in history.
"The adventure for us will be to capture for posterity, like a time capsule, what children, young people and families get up to on one day in the summer of 2011."
A selection of the diaries submitted by families and children will be posted online for the public to view for five years.
They will then form part of the permanent Mass Observation Archive collection
Those wanting to take park should email a diary of up to 300 words to summerdiary@dh.gsi.gov.uk