Crawley council gives options for failing Mill Pond dam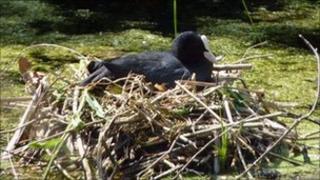 A dam in a bad state of repair at a Sussex lake could be upgraded at a cost of up to £8m or withdrawn from service.
Crawley council has set out three options for dealing with the risks of dam failure at the Mill Pond in Ifield.
The local authority said it either had to upgrade the dam or withdraw it from service because of its responsibilities under the Reservoir Act.
The Mill Pond, a conservation area, is seen as the most important wetland site in Crawley, the council said.
'Huge amount'
Options are to drain the whole pond at a cost of up to £4m to leave a stream, drain some of the pond at a cost of £6m to £8m to leave several smaller ponds or upgrade the dam at a cost of £5m to £8m which would maintain the lake but see some trees felled.
The council also has to decide what to do with the "huge amount of silt".
It said leaving it on site would be unattractive, but disposing of it off-site would mean many vehicle movements over several months.
The Mill Pond is home to birds including coots, moorhens, the great crested grebe, and reed bunting.
Other wildlife includes frogs, toads, newts, damselflies and dragonflies, and plants to be seen there include the greater reed-mace, the true bulrush, yellow iris and water mint.
Consultation on the three options is under way and the council is likely to make a final decision in the spring.