Brighton art exhibition sees sculptures 'come alive'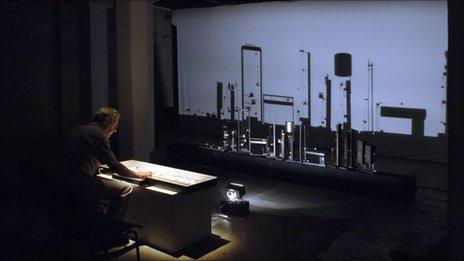 An exhibition where the sculptures make noises as people's shadows fall across them is being unveiled in Brighton.
The artworks, created by German artist Peter Vogel, can be seen as sculptures, music and dance.
Curators behind the exhibition at the University of Brighton believe it is the first time his work has been seen in the UK.
Experts have described his work as "living sculptures" which are brought to life by people moving around them.
Vogel, who is now in his 70s and whose contemporaries include US composers John Cage and Steve Reich, is still a practising artist.
His son, Achim, is in the UK for the start of the exhibition and will "perform" the sculptures on Friday's opening night.
Conall Gleeson, co-curator and researcher, said: "The important thing is that it's essentially playful.
"It appeals to young people and old people because of the interaction, but it can also be contemplative. It engages the body and the mind."
He said: "The instruments are homemade sounding objects, like a hammer striking a tin can.
"They are simple everyday sounds, but put together to produce complex dance rhythms.
"The sound world belongs equally to a dance club, so it's high art and low art, a gallery and also a club."
Mr Gleeson said some gallery visitors had been known to "dance wildly" alongside the sculptures, while others preferred to contemplate their clean lines and aesthetics.
Vogel studied physics and started off his career working in medical research and then cybernetics.
But his parents were artists and, in the 1950s, Vogel started combining his scientific background with painting, dance and choreography, electronic music, and video.
He set out to create paintings that included the element of time - which he achieved by adding sound and so giving each work a type of musical score.
Working in Germany and later in New York, he made his works resemble electrical circuitry, by using transistors, capacitors and wiring found in everyday electronic devices.
Mr Gleeson and his co-curator Jean Martin have produced a documentary about Vogel that is being screened during the exhibition, which runs at the Faculty of Arts Gallery in Grand Parade until 7 November.
Related Internet Links
The BBC is not responsible for the content of external sites.