Newhaven incinerator 'not to blame' for ash and smells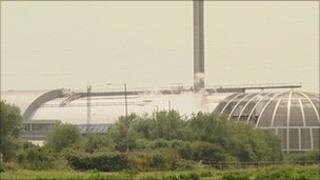 The company behind the Newhaven incinerator has denied responsibility for black ash deposits which some residents claim have affected the area.
The new waste incinerator began operation in spring this year despite some local opposition.
There have been reports of black ash, unusual smells and tastes affecting people in Newhaven.
However, operators Veolia Environmental Services claims the plant has never exceeded permitted pollutant levels.
Keith McGurk, project director with the company, said he had also noticed the smell and ash deposits in the area.
'Heavily regulated'
"I can assure residents that whatever they're experiencing is absolutely nothing at all to do with our plant," he said.
"The plant is modern, well engineered and extremely well managed and heavily regulated.
"The monitoring is undertaken by our own staff but overseen by the Environment Agency, and it is constant.
"I believe the ash is from other activities in the area but certainly not from our incinerator."
The incinerator is being gradually tested up to its full working capacity and will generate electricity through burning an estimated 210,000 tonnes of waste a year.
Chris Wick, the Environment Agency's environment manager for Sussex, said it has its own monitors installed at the incinerator.
"What the monitors are showing is that the incinerator is operating very well," he said.