Man dies in Hassocks suspected hit-and-run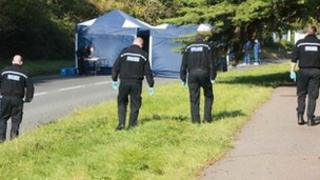 A man has died in a suspected hit-and-run crash in West Sussex.
Police and paramedics were called to the A273 London Road in Hassocks at about 04:30 BST following reports of a man lying in the road.
Sussex Police said when they arrived the victim, who was local and in his 20s, was dead and debris from a collision with a vehicle was nearby.
Insp Steve Grace said it was believed he may have been hit by a vehicle similar in size to a Ford Transit.
He appealed for the driver to contact officers.
"During the collision the vehicle involved would have received damage.
"Anyone who has seen someone examining their vehicle this morning or noticed a vehicle with suspicious looking damage is also asked to contact police," he said.