Megan Louise Campsey born at 11:11 on 11/11/11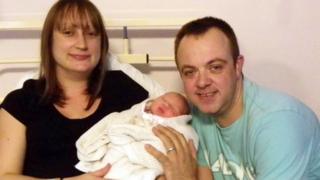 A baby has been born at exactly 11:11 GMT on 11 November 2011 at a hospital in West Sussex.
Megan Louise Campsey's arrived at Worthing Hospital where her mother Gill Campsey described her as "absolutely beautiful".
Megan's late great-grandfather Lionel Netherton was a veteran of World War II.
Hospital staff said that luckily for Mrs Campsey, Megan did not also weigh 11lb 11oz but a "less notable" 7lb 9oz.
Mrs Campsey, a human resources officer who lives in Worthing with her husband Damian, a kitchen fitter, said: "I always knew I would have a little girl to go with our son, and it is particularly good for me because I love pink.
"It just feels right for her to be born today on Remembrance Day.
"My late grandfather fought in World War II, and he used to sell poppies outside the old Tesco in Durrington."
Head of midwifery at the hospital Carole Garrick said: "We are thrilled for them.
"The birth of a baby is such a special event whatever the date, but at least in this case we can guarantee that her birthday will never slip anyone's mind."