Mark Ling keeps Sussex Police job after text message misconduct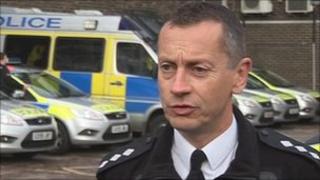 A senior Sussex policeman found guilty of gross misconduct for sending "inappropriate and offensive" text messages is to keep his job.
Ch Insp Mark Ling, who was Hastings District Commander, was suspended earlier this year after an allegation that he sent an offensive text message.
Sussex Police said more inappropriate and offensive text messages came to light during an inquiry.
Following a two-day hearing, Ch Insp Ling received a final written warning.
He has been told he can return to duty and the force will consider which position he will return to.
Deputy Chief Constable Giles York said: "We take our duty to ensure the highest standards of behaviour and professionalism by our officers and staff very seriously and thoroughly investigated these matters.
"The officer failed to uphold the values the public and the force expect of all our people and disciplinary action has been taken against him."
The force has not officially identified the officer.