Heroin victim Amy Pickard 'was not a known drug user'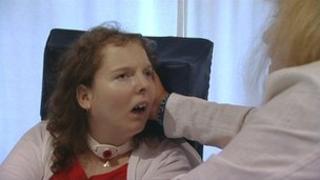 A brain-damaged woman who needed 24-hour care for eight years after taking a heroin overdose was not a regular drug user, an inquest has heard.
Amy Pickard was 17, and seven months pregnant, when she was found collapsed with her boyfriend in a public toilet in Hastings, East Sussex, in 2001.
She was left in a persistent vegetative state from which she never recovered.
The coroner at Hastings Magistrates' Court said she died as a result of "non-dependent abuse of drugs".
Describing her death as a "wholly natural mode of dying", Alan Craze rejected the possibility she might have died from accidental asphyxia.
Instead, he said her death was the result of a cardiac arrhythmia due to cardiac arrest, causing profound brain damage because of the heroin overdose.
Earlier, Ms Pickard's mother, Thelma, had told the inquest she had known nothing about her daughter's drug use.
She said she would have known if there was a problem because they were so close.
'Prized patient'
Together with her boyfriend, 22-year-old Michael Morfee, Ms Pickard had gone into Hastings to buy a cot for her unborn baby.
The pair were found in the cubicle after it is believed Ms Pickard experimented with heroin for the first time.
She lost oxygen to her brain for 15 minutes and was taken to the nearby Conquest Hospital, where her daughter Summer Louise was delivered. The baby died five days later.
In 2007, Ms Pickard featured as part of a BBC documentary titled The Waking Pill, after hopes that the drug Zolpidem - used as a treatment for insomnia - could help revive her.
Weeks after taking the drug, she began to breathe by herself, instead of through a hole in her throat. She reacted to food and showed signs of awareness.
However, she never properly recovered and died, aged 25, at Mary House care home in Hastings in October 2009.
She had moved there days earlier after spending seven years at the Raphael Medical Centre in Tonbridge, Kent, where she responded well to holistic therapies and was regarded as a "prized patient", according to her mother.
Mrs Pickard, from Icklesham, East Sussex, told the inquest that checks, including of oxygen levels, were not carried out properly and that her daughter's positioning in her bed on the day of her death was "odd".
Speaking about her belief on how she died, she said: "I can't say I know because I wasn't there but I surmise that she had rolled over and her airway was blocked."
The day before her death, she did not seem relaxed, Mrs Pickard added.
"Amy was a high-spirited girl," she said. "At Mary House, she just went downhill."
Consultant histopathologist Dr Ian Hawley, of the Conquest Hospital, said the cause of death could not be ascertained, but there were two probabilities - a brain-induced arrhythmia or asphyxia.
He explained that airways could become blocked among brain-damaged patients because of their inability to hold their heads upright.
'Incredible spirit'
Felicity Evans, a registered general nurse on duty at Mary House when Ms Pickard died, said checks were carried out on her every 30 minutes throughout the night, with the last check carried out at 04:45. She was found dead just over an hour later.
Outside court, Mrs Pickard said the inquest had given her some answers to questions she had about the care at Mary House, although she still had more questions.
"I remember Amy, my daughter, as a lively chatterbox who adored dancing and who had lots of lovely friends, and we were very close," she said.
"After the coma, her life would never be the same again but Amy had an incredible spirit, and she fought for almost eight years.
"Every week her condition was improving and we planned to bring her home by the end of the year.
"I loved Amy then and I love her more and more each day, and I miss her. I miss her so much."