Horsdean chosen as Brighton travellers' site 'best option'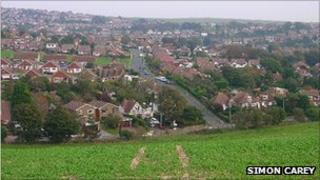 A area of land has been selected as the "best option" for a new travellers' site by Brighton and Hove City Council.
A survey by the council selected Braypool Road in Horsdean as the most appropriate site.
The national park also asked the council to consider a shortlist of other sites from the 50 considered before it makes a final decision.
The new site would provide pitches for 16 families.
The council was awarded a £1.7m grant by the government for the development of a permanent travellers' site.
In October several hundred people held a demonstration in Happy Valley, Woodingdean, over plans for a travellers' site.
Brighton and Hove City Council said it would give further consideration to sites at Watershall Farm and Hangleton Bottom, both of which are in the South Downs National Park,
Either site would need the park authority to grant planning permission.
The formal decision is expected in March.