Growing need for Bognor homeless shelter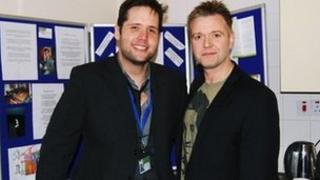 A charity running an emergency shelter for homeless people in West Sussex has said it expects more clients than ever to need help.
The shelter, at the Glenlogie Building in Clarence Road, Bognor Regis, will be open during extreme weather conditions.
Until March, the 17-bed accommodation will be open when overnight temperatures are forecast to be 0C or less across three consecutive nights.
The Stonepillow charity said it was used by eight or nine people last year.
Spokeswoman Dawn Ingram said need was expected to be greater this winter because more eastern European people were in the area without accommodation.
Stonepillow, which runs St Joseph's night refuge in Chichester, is running the hostel this year on behalf of Arun District Council which owns the empty building.
It was run by the charity Homelink last winter.
The emergency shelter was officially opened on 16 December by actor Darren Day, who is appearing in pantomime in Worthing.
Tent encampment
A Lithuanian national, 54-year-old Sigitas Juozapaitis, was one of two Stonepillow clients killed in separate crashes on the A27 Chichester bypass earlier this month.
Mr Juozapaitis and 39-year-old Kenneth Sherwood were both crossing the dual carriageway between the Whyke and Stockbridge roundabouts to get to St Joseph's.
Sussex Police said there was an "overspill" encampment of tents on the other side of the A27 used by homeless people who were unable to get into the permanent hostel in Hunston Road.
Stonepillow, which also runs a day centre in Chichester city centre, is campaigning to get better lighting and warning signs on the A27 and has launched an online petition.
Workers out on a street collection on 12 December collected 196 signatures in one day in support of the safety campaign.