Police officer hurt at Hove crash scene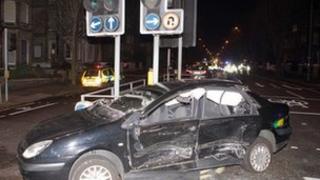 A police officer was left with injuries to her knee and wrist after being hit by a car while she was at the scene of a road accident in Hove.
Sussex Police said the officer was knocked over after the two-vehicle crash in The Drive on Monday night.
She received minor injuries when she was hit by a third car whose driver did not see her standing in the road.
The driver of a van involved in the original accident was arrested on suspicion of drinking and driving.