Brighton couple tied up in robbery at home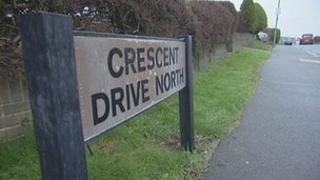 A couple in their 70s were tied up and locked in their bedroom by three masked men who searched their home in Brighton before stealing jewellery and money.
The man opened the front door of their home in Woodingdean to one of the gang, thinking he was a delivery man because he was carrying a large box.
After the robbery at about 19:20 GMT on Thursday, the couple managed to untie themselves before raising the alarm.
"It was a very terrifying ordeal for them both," said Det Con Jon Freeman.
"They were both extremely shocked but they are both bearing up really well and being very brave."
Sussex Police said the couple, both aged 73, were taken to hospital for observation but were not seriously injured, receiving slight bruising to their arms.
No weapons were involved in the robbery.
Detectives believe the box carried by the gang was taken from bins at the back of a small parade of shops in Warren Way.
"If anyone saw a person or people acting suspiciously in that area before the robbery they should contact police," said Mr Freeman.
"As well as forensic examinations at the house, we are making extensive inquiries in an effort to trace these men.
"Patrols have been increased in the area."