Brighton and Hove Albion in stadium and training ground plan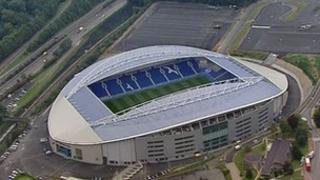 Brighton and Hove Albion Football Club has given details of plans to expand its stadium and build new training facilities.
The Championship club has announced plans for a new training ground at New Monks Farm and an additional 8,000 seats at the Amex Stadium.
The stadium at Falmer opened in July and currently has a capacity of 22,500.
The club is also preparing plans for a new car park on the on the site of the old Falmer High School.
Training pitches
Chief Executive Martin Perry said: "If we are going to make a challenge on the Premier League we definitely need a 30,000 capacity stadium but more importantly we need first class training facilities and an academy to develop young talent."
The planned training facility, close to the A27 and Shoreham airport, will include four full-sized and one three-quarter-sized pitch as well as changing and treatment rooms.
The land is being made available to the club by Adur District Council.
The club said it hopes the applications for both projects will be complete by April or May.
Brighton and Hove City council will then consider the plans for the stadium, while the application for the training ground development will go before Adur District Council's planning committee.
Mr Perry said Brighton and Hove City council was also looking at a transportation plan for the stadium, but said fans needed to be "realistic" about delays arriving and leaving the stadium.