Sussex Police: Drugs link investigated in flat attack death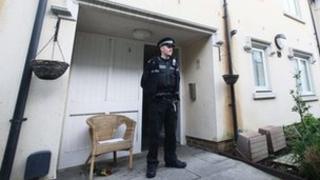 Drugs are being investigated as a possible motive for an attack on a man in his Brighton home who later died.
Christopher McLean, 65, answered the door on Friday to two men who attacked him in his flat in Caledonian Crescent.
Sussex Police launched a murder probe, but a post-mortem examination showed he died of heart disease.
Officers have said they are investigating links to drugs at the flat.
Det Ch Insp Nick May said: "Within the community there is information about drugs linked to that address and that is certainly one of the very active lines of inquiry we're pursuing."
Officers have said they were still treating the incident as a major crime. Police have appealed to the two men to give themselves up.
Fight broke out
Mr McLean, who was known as Mac, answered the door to the suspects between 20:00 and 20:30 GMT.
The men confronted him, barged into his flat and a fight broke out, police said.
After the incident, Mr McLean began to feel unwell and his partner called an ambulance, but he later died.
One of the men was described as white and about 5ft 4in (1.6m) tall. The other was described as white, about 5ft 6in (1.7m) tall, with a stocky build and aged in his late-30s.
Anyone with information is urged to contact detectives.