Timeline: Victoria Couchman's death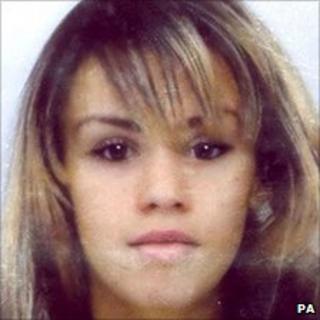 Victoria Couchman's remains were discovered by children in woodland in East Sussex in October 2008 and were identified using medical records.
The teenage mother lived with her father, Tony Couchman, in the Queensway area of St Leonards-on-Sea.
An inquest into her death has recorded a verdict of unlawful killing.
Mr Couchman was charged with the 19-year-old's murder, but he committed suicide while in Lewes prison two days before his trial was due to begin.
He denied charges of murder and perverting the course of justice.
A Sussex Police spokesman said: "The matter is entirely closed."
13 October 2008
A skull and other human remains are discovered by children in woods near Queensway between Wishing Tree Reservoir and Crowhurst Road in Hastings.
Sussex Police say the unburied remains have been there for less than 18 months.
A pelvic bone, fibula and upper left leg, which had suffered a full break and had been pinned, are also found.
Within a week, 90% of the skeleton is uncovered following a search by police, and the remains undergo forensic examination.
Skull of teenager found in woods
18 October 2008
Sussex Police say they believe the dead woman is 19-year-old Victoria Couchman who lived with her father in Beecham Place, St Leonards-on-Sea, about a mile from where the remains were found.
A plate with a unique serial number, which was fitted after she broke her leg in a road accident in which her brother died, helps to identify her.
Tony Couchman, Ms Couchman's father, is arrested on suspicion of murder.
Police identify woodland remains
19 October 2008
Police are given a further 36 hours to question Mr Couchman at Eastbourne police station.
Miss Couchman was a member of social networking site Bebo where she described herself as a lover of comedy and romance films and urged others to "live life like it's your last day".
She had not been reported missing by either friends or family.
Further questions over woods body
20 October 2008
Sussex Police say that Ms Couchman's Bebo account had been used several months after her murder.
Ms Couchman had gone missing in May 2008, say police, but her Bebo account had been used to send messages to a friend in August 2008.
Bebo site used after woods murder
12 February 2009
Mr Couchman is re-arrested on suspicion of the murder of his daughter. He is released on bail.
Father is re-arrested over murder
20 April 2009
Sussex Police charge Tony Couchman with the murder of his daughter Victoria, and for perverting the course of justice.
He is remanded in custody.
Father charged over murder probe
7 August 2009
Mr Couchman pleads not guilty to murdering Ms Couchman between 15 May and 18 May, 2008.
He also denies perverting the course of justice between 18 October 2008 and 17 April 2009 in connection with the murder investigation.
He is remanded in custody at Lewes Crown Court.
The date of his trial is set as 4 January 2010. It is expected to last between five and six weeks.
Father denies murdering daughter
2 January 2010
Tony Couchman is found unconscious and bleeding in his cell at Lewes Prison and dies later.
A spokesman for the Prison Service said: "The cause of death is yet to be determined.
"As with all deaths in custody, the Prisons and Probation Ombudsman will conduct an investigation."
His family issue a statement through Sussex Police, which says he was a "loving father and grandfather who would be hugely missed".
The statement says: "The family stands by Tony and do not believe that he did this to Vicky. Rest in peace, Tony, now that you are with Dean and Vicky. From your family, we all love you."
Murder charge father dies in jail
28 June 2010
An inquest at Eastbourne Town Hall returns a verdict of suicide and rules that Mr Couchman's mental state was not properly checked.
It rules: "In the period leading up to his death, there was evidence of low mood but no mental health review was conducted.
"There were no effective observations of potentially vulnerable prisoners whilst in their cells.
"There was no system in place to identify potentially significant events in a prisoner's life."
Inmate suicide checks questioned
16 January 2012
At an inquest into Victoria Couchman's death at Hastings Magistrates' Court a verdict of unlawful killing is recorded.
East Sussex coroner Alan Craze says it was "one of the most significant and difficult set of cases" he had dealt with.