Sir David Attenborough launches Glyndebourne turbine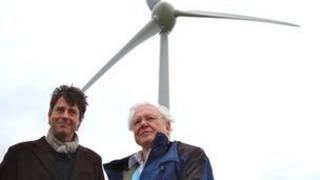 Broadcaster Sir David Attenborough has officially launched a controversial wind turbine installed at Glyndebourne Opera House on the South Downs.
Sir David has been a long-term supporter of the 220ft (67m) high turbine and spoke to support it at a public inquiry in 2008.
The opera house said the turbine, which will generate much of the building's power, was a "landmark development".
But objector, the South Downs Society, has dubbed it "Glyndebourne's Folly".
At the launch on Friday, Sir David said: "It is great to be involved with something that is working with nature."
Construction of the turbine took place in October, after it was delivered in sections on a convoy of five lorries from Purfleet in Essex.
The opera house in Lewes, East Sussex, said it was the only UK arts organisation to generate its own power using a large-scale wind turbine.
"This is a ground-breaking development and an important step for ensuring sustainability for Glyndebourne and the arts," it said.
Sir David told the public inquiry he had a great affinity for the area, now within the South Downs National Park, and had been visiting Glyndebourne since the 1950s.
"Wind power can never provide for all our wants but every bit of power generated by wind must be welcomed," he said ahead of the launch.
Glyndebourne's 2012 Festival will be its first to run on wind power.
It said the turbine would contribute substantially to its aspiration that 90% of the power required to stage its operas would be obtained through renewable energy.
But many local residents, along with Ringmer Parish Council, the South Downs Society and Natural England objected to the turbine because of its impact on the area.
Steve Ankers, planning officer for the South Downs Society, said the structure would produce only a minimal amount of power.