Shoreham Power Station criticised for warm water 'waste'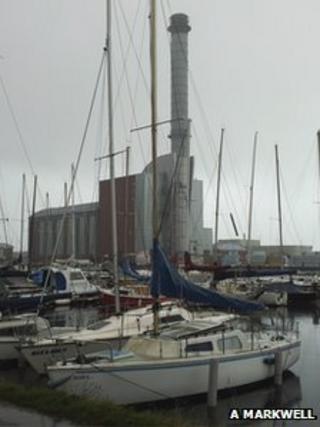 Friends of the Earth has called for a Sussex power station to reuse its waste warm water to heat homes instead of depositing it in the sea.
The group said it was a "massive waste" by Shoreham Power Station.
Retired engineer John Kapp said the heat, which made the sea feel like "swimming in a bath", should be recovered.
Scottish Power, which runs the power station, said it had no plans to make any modifications.
Paul Steadman, from Friends of the Earth, said: "Burning expensive... gas to produce electricity and then not making use of the hot water is a massive waste.
"It should be used to heat the businesses around the port and possibly homes close by too.
"That would be better for the environment and crucially better for all of us paying the bills."
'Warm bath'
Mr Kapp, who regularly swims in the sea, said the water from the waste outlet warmed the sea, but the heat should be recovered using a combined heat and power (CHP) method, and used in nearby homes and businesses.
"If it's beautifully still, and sometimes it has been completely still, then you get this lovely hot pool at least a metre deep of water," he said.
"So as long as you don't put your foot down in the cold you can have like a warm bath."
The leader of Adur District Council, Neil Parkin, said he used to swim in the waters when he was a child as he remembered them being warmer close to the "old coal-fired power station".
But he believed it would not be financially viable to retro-fit nearby houses to make them able to use the warm waste waters.
A Scottish Power spokesman said: "Shoreham is a modern and efficient power station that continues to maintain high standards of performance and environmental compliance.
"At present we have no plans to make any modifications to the way the station operates."