Third homeless A27 crash victim named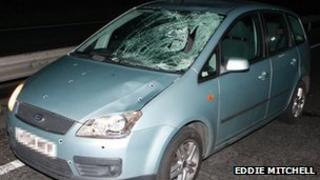 The third homeless man to be killed on a Sussex road in the last two months has been named as Sigitas Jagminas.
The 61-year-old was killed when he was hit by a car on the A27 between the Stockbridge and Whyke roundabouts in Chichester at 17:35 GMT on Friday.
Sussex Police said Mr Jagminas, a Lithuanian national, had lived in the area for some time but was homeless at the time of his death.
The number of night-time speed checks in the area have been increased.
The 42-year-old woman from Bognor who was driving the Ford Focus was unhurt.
Two homeless men died at the same spot while attempting to cross the A27 to get to St Joseph's hostel in December.
Sigitas Juozapaitis, 54, was the first man to die crossing the Chichester bypass on 2 December. Three days later, Kenneth Sherwood, 39, was fatally injured on the same road.