Michael Fitzpatrick shooting: 'Police are going to kill me'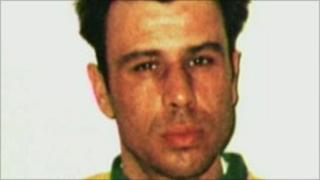 A wanted man who was shot dead in a Brighton street told a friend police were going to find him and kill him, an inquest has been told.
Michael Fitzpatrick, 49, was shot by officers in Rock Place, in the Kemptown area of the city, on 10 February 2011.
He had pulled out a handgun after officers stopped him on the street, Brighton Coroner's Court was told.
His friend, Dustin Sussex, told the inquest jury Mr Fitzpatrick would rather have died than return to jail.
Sussex Police had wanted to speak to Mr Fitzpatrick in connection with several armed robberies.
He was fatally wounded in the chest and abdomen when police opened fire.
'Feared return to jail'
Mr Sussex, 31, said Mr Fitzpatrick had worked for him as a driver and they had been close friends for four or five years.
The pair spoke on the phone and met regularly, he told the hearing, even after Mr Fitzpatrick stopped working for him.
The inquest was told the pair had met in the car park of Burgess Hill station the weekend before Mr Fitzpatrick's death.
Mr Sussex said: "He said that he would never end up back in prison. He said 'they are going to find me and they are going to kill me'.
"He thought he was going to go back to prison because the police were looking for him.
"He said in conversations when we spoke about prison that he would rather be dead than go back there."
The inquest heard Fitzpatrick was carrying an airgun which looked so realistic it was only found to be a replica when it was examined after his death.
The jury heard he would have needed a licence for the gun but was prohibited from owning one because of previous convictions, and there was no magazine in the weapon.
Released on licence
Ch Supt Keith Lumley from South Yorkshire Police who performed an advisory role for the Independent Police Complaints Commission on behalf of the Association of Chief Police Officers, told the court he found no issues of misconduct or criminal acts by any of the officers involved in the shooting.
He said the firearms officers had responded and reacted in a "model" way.
He also said Fitzpatrick had been let out on licence and that the licence period was not due to expire until August 2013.
"The attempted robbery would have been enough to put him back in prison," he said.
Mr Lumley also said it would not have been appropriate to use a taser to disarm Fitzpatrick because the officers were too far away, Fitzpatrick's jacket could have rendered it ineffective, and the taser could have caused Fitzpatrick to clench and involuntarily pull the trigger of the gun.
The inquest was adjourned until Friday.