Bognor Regis Picturedrome 'threatened' by multiplex plan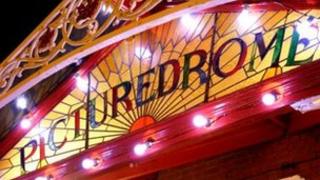 Regeneration plans for Bognor Regis in Sussex threaten the survival of its Picturedrome cinema, according to members of Bognor Regis Town Council.
Arun District Council is looking at plans which include a multiplex cinema for the Regis Centre site.
They said it would attract more people to spend money in the town.
Bognor Regis Town Council, which owns the Picturedrome, said it would be put out of business by a new multiplex cinema.
The building which houses the Picturedrome opened in 1886 and it currently shows films on their first release.
'Audiences will suffer'
Roger Nash, from the town council, said: "If a multiplex comes then the distributors are going to give their first run films to them and not the the Picturedrome.
"If you don't get those first releases then your audiences are going to suffer, your revenue's going to suffer and eventually your business will close."
Mr Nash said, other than the proposed multiplex cinema, the town council supported Arun District Council's regeneration plans for Bognor Regis.
He added: "There should be another leisure attraction, like a ten pin bowling alley or a skating facility, laser quest or a soft play centre.
"Even if you had a two-screen cinema on the Regis Centre site that would allow the Picturedrome to survive."
'Mixed up'
Norman Dingemans, Arun District Council's Cabinet Member for Economic Regeneration, said a bowling alley or a skating rink would not attract as many people as a cinema.
He said: "All the evidence shows that if you want to bring people into the town to the bars and restaurants and retail you need a real anchor.
"A bowling alley on its own won't do it but a multiplex with a bowling alley may well.
"The town council is getting mixed up between trying to protect their investment and what maybe best for the greater Bognor Regis area.
"We can protect heritage and have a multiplex. Nobody's closed anything off yet."
Arun District Council said it will have more definite proposals for the Regis Centre site when it meets with the developer at the end of February.