Ford Prison riot defendant Paul Hadcroft cleared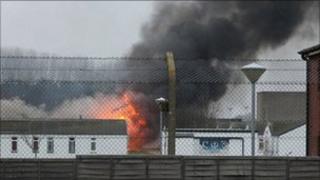 A jury has been ordered to find one of the defendants in the Ford Prison riot trial not guilty.
Judge Michael Lawson QC told Hove Crown Court that following the prosecution's case, there was insufficient evidence to try 25-year-old Paul Hadcroft.
He was an inmate at the prison in West Sussex when rioting broke out just after midnight on 1 January last year.
He was cleared of prison mutiny, arson and violent disorder and being reckless as to whether life was endangered.
Judge Lawson said only one witness claimed to have seen Mr Hadcroft involved in the trouble, but on cross-examination he was unable to say whether he was sure he had named the right person.
The court has heard the mutiny at Ford Prison lasted for more than 12 hours, during which time prisoners smashed up buildings and set them on fire, causing millions of pounds of damage and putting people's lives at risk.
Violent disorder
Lee Roberts, 41, Thomas Regan, 23, Ryan Martin, 25, Lennie Franklin, 23, Roche Allen, 25, and Carniel Francis, 25, all deny a charge of prison mutiny.
Five of the men have also pleaded not guilty to a charge of violent disorder, except Mr Regan, who has pleaded guilty to the charge.
Mr Roberts, Mr Regan, Mr Martin, Mr Franklin and Mr Allen also deny a further charge of arson, being reckless as to whether life was endangered.
Mr Roberts has pleaded guilty to a charge of arson.
The trial was adjourned until Monday.