City worker Al Amin Dhalla guilty of stalking girlfriend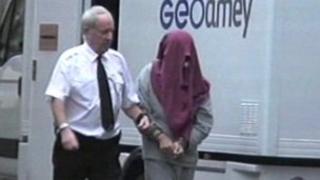 A former city worker has been found guilty of stalking his former fiancee and her mother.
Al Amin Dhalla, 42, of no fixed address, was accused of carrying out a campaign of terror after his relationship with trainee doctor Alison Hewitt, 35, of Brighton, ended.
He was convicted of seven charges including harassment and arson at Lewes Crown Court on Tuesday.
The jury is still considering three other counts.
The 42-year-old was found not guilty on two more serious charges of putting a person in fear of violence through harassment.
'Rush to marry'
The court heard how Dhalla moved into the home of Ms Hewitt, 35, months after meeting her through an elite online dating agency for professionals.
However, Ms Hewitt's family voiced concern over his "unseemly haste" to marry her and relations soured.
The couple split after a year, and Dhalla went on to set fire to her family's home near Aylesbury, Buckinghamshire, while her mother and stepfather were on holiday.
The jury will resume its deliberations on the three remaining counts on Wednesday.