Firefighters tackle blaze near Shoreham Power Station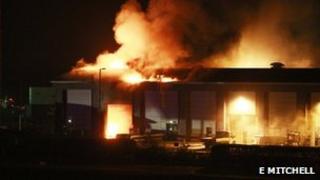 A severe fire in a building near a West Sussex power station has been tackled by firefighters.
West Sussex Fire and Rescue Service were called to the storage area adjacent to Shoreham Power Station just after 20:30 GMT on Thursday.
Six fire engines and a support crew were at the scene.
A spokesman for the fire service said all persons in the building were accounted for. The fire was extinguished at 02:00 GMT.
Group commander Dave Howells, from West Sussex Fire Service, said it was too early to speculate on the cause of the fire.
He said: "The fire was contained to one compartment at the building.
"It's in a compartment where they have a gas compression unit which feeds on into the main turbine area, but there was never any likelihood that it would progress.
"It's currently under investigation at the moment and it's too early to speculate how it was caused."