Ifield Mill Pond dam to be upgraded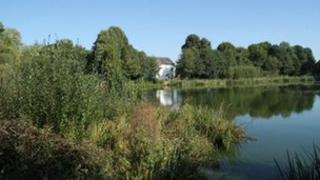 A dam in a bad state of repair at a Sussex lake is to be upgraded at a cost of about £7.5 million.
More than 500 residents responded to Crawley Borough Council's consultation on the Mill Pond in Ifield, with almost 90% in favour of the the improvements.
Trees close to the existing dam will be felled but environmental work in the area will ensure the area retains its current appearance, the council said.
Councillor Ken Trussell said: "The dam is failing so we have to do something."
The Mill Pond is home to birds including coots, moorhens, the great crested grebe, and reed bunting.
Other wildlife includes frogs, toads, newts, damselflies and dragonflies, and plants to be seen there include the greater reed-mace, the true bulrush, yellow iris and water mint.
Work is beginning on the detailed planning application and the work is expected to take about two years.