Unseen photos of Chichester Cathedral go on display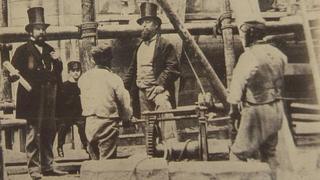 Rare and unseen photographs, documenting the history of Chichester Cathedral in West Sussex, are being made public for the first time.
Chichester Cathedral has been awarded £50,000 in Heritage Lottery Funding to catalogue and digitise its collection of historic photographs.
The collection includes 50 photographs relating to the collapse of the cathedral's spire in 1861.
The images will be available online as well as at the cathedral's library.
Cathedral memories
The cathedral's chancellor, Canon Dr Anthony Cane, said: "The funding will enable us to preserve and make accessible a large amount of unique material, and also to generate significant learning resources.
"It is our aim that schools, researchers and the wider public will all be able to benefit from and enjoy access to the many images and stories that have, so far, been unseen and untold."
The cathedral aims to tell its history from the 19th Century onwards with documents, oral testimonies, photographs and objects.
The public are invited to share any cathedral-related memories and memorabilia on 30 March at the cathedral.
The cathedral is also looking for volunteers to conduct research, deliver a specially devised education programme and help with scanning and cataloguing.