Worthing kite surfing competition announced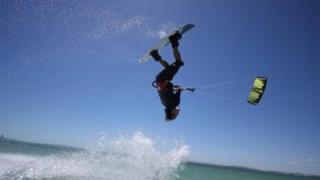 Kite surfers will gather for a competition in West Sussex as part of the Olympic torch relay weekend, it has been announced.
The Big Air Open will take place in Worthing on 14 July, with points being awarded for the highest jumps.
Pier jumper Lewis Crathern said: "This will be an amazing format for kite surfers of all levels to take on the wind and waves."
Twelve of the 36 places in the event will be reserved for local competitors.
The event will see points awarded for the maximum height reached.
There will be 28 heats each lasting eight minutes, with three riders in each heat.
Mr Crathern, a Worthing resident and former British kite-surfing champion, will be commentating and judging at the event.
In November 2010 he was filmedjumping over Brighton Pier.