Remaining grounded Gatwick bags 'on their way'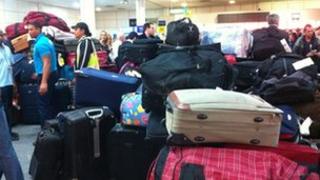 All the remaining bags left at Gatwick Airport after a power failure at the weekend are on their way to their owners, a spokeswoman has said.
About 2,500 bags were left at the West Sussex airport's North Terminal after a power cut at 03:30 GMT on Saturday.
Electricity was restored soon after the power failure, but eight baggage belts remained out of action for seven hours.
The airport said rival airlines with spare capacity had been returning luggage to passengers.