Hotham Park closed after trail of blood discovered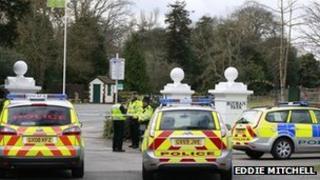 A trail of blood discovered in a park in West Sussex is being linked by police to the earlier smashing of a shop window.
Officers attended Hotham Park in Bognor Regis at about 08:00 GMT on Sunday following reports a large amount of blood had been found.
The park was temporarily closed while they investigated the scene.
Police said they want to speak to a 24-year-old man who is being treated in hospital for a hand injury.
Insp Nick Bowman, from Sussex Police, said a window was smashed in Harfield Court, High Street, at about 03:00 GMT.
He said: "I am aware that the park was closed at a time when people may well have had plans to enjoy the fine weather on Sunday.
"But there had been a number of incidents during the night and until we could be sure that they were not linked and a serious crime had not taken place, we had to secure the area for forensic investigation."