Hastings Pier purchase order to be issued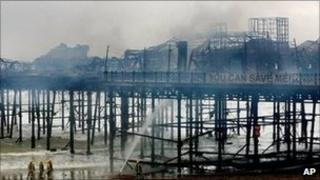 The Panamanian owner of Hastings Pier is to be issued with a compulsory purchase order this week after it missed a deadline to start repairs.
Hastings Borough Council said it expected to issue Ravenclaw with the order on Wednesday.
The company has failed to respond to a repairs notice issued at the end of November, which paved the way for the compulsory purchase.
The Victorian pier was almost destroyed in an arson attack in October 2010.
Up to 95% of the structure, which was closed to the public in 2006, was damaged in the fire.
Since then Ravenclaw has failed to respond to approaches by the council.
The council's aim is restoration of the 140-year-old pier, which would be run by Hastings Pier and White Rock Trust.
The trust secured £357,400 of funding for initial works from the Heritage Lottery Fund but the redevelopment is dependent on a full grant of another £8.75m.
"We will continue working with the Hastings Pier and White Rock Trust for the future of this important landmark," said Councillor Peter Chowney.
Two men, then aged 18 and 19, were arrested shortly after the fire but the Crown Prosecution Service announced last April that there was not enough evidence to bring charges.