Hosepipe ban prompts West Sussex drought summit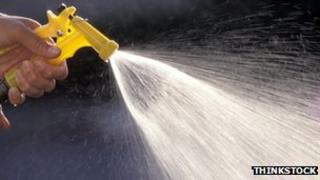 A drought summit is being held in West Sussex to prepare for a hosepipe ban.
West Sussex County Council wants to explore what it could do to help people save water.
The council said it had invited Southern Water, South East Water, Portsmouth Water and the Environment Agency to meet on 30 March.
Most of the county is affected by the hosepipe bans being brought in by Southern Water and South East Water on 5 April.
Portsmouth Water is not introducing a hosepipe ban in April but has called on its customers to show "voluntary restraint" in their water usage in the coming months.
'Vulnerable at risk'
Deputy leader of the council Lionel Barnard said: "The meeting will be an opportunity to find out what we can do to advise residents and businesses on what steps they can take to reduce water use now, and what steps can be taken if the situation does deteriorate."
The council is currently reviewing the type of action it might take if there were any further emergency measures.
Pete Bradbury from the council, who is leading the review, said: "A severe drought event could impact on West Sussex in a variety of ways including the disruption of our infrastructure, health and social care systems, and by putting the vulnerable at greater risk.
"We have to make sure we have plans in place to assist our most vulnerable communities."