London 2012: Sussex drummer to play at opening ceremony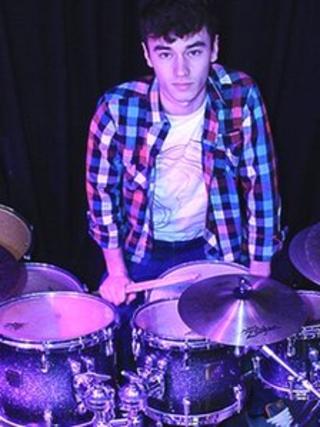 A drummer has won a place to perform at the opening ceremony for the London 2012 Olympics after auditioning on an upside-down bucket.
Jack Summerfield, 19, from Horsham in West Sussex, is a student at the Academy of Contemporary Music (ACM) in Guildford.
He saw an advert for the audition on ACM's student website and he applied.
After two audition stages, the second of which he was asked to play on a bucket, he was told he had got through.
He said: "It's the opportunity to get to play in front of the world."
Mr Summerfield auditioned with hundreds of other candidates in the two auditions.
He said: "It's the Olympics - you're not going to be standing round not doing much - you have to show that you can perform."
The second audition stage was about being able to drum in time.
"A group of 100 to maybe 200 of us were standing there in this hall and they said: 'Right, here's the rhythm' and we played on upside down buckets, which was quite entertaining."
A spokesperson from LOCOG said using buckets was part of the general audition process to test co-ordination and role play.
Rehearsals begin in May but until then Mr Summerfield does not have any details of what he will be doing and even when he does, he has signed a contract which means he cannot reveal the details to anyone.
He said he will not be getting paid for the performance but it is not about the money.
"I'm playing to the world and the closest live stage I could match it to would be something like Live Aid."