Bluebell Railway in Sussex raises thousands for track restoration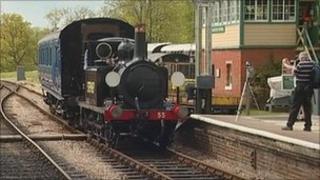 An appeal to rebuild the remaining stretch of track on a steam railway in Sussex has raised £160,000 in its first week.
Work to extend the Bluebell Railway by two miles to allow trains to go to East Grinstead began over three years ago.
Thousands of tonnes of waste had to be removed from part of the line at Imberhorne.
A further £640,000 is needed to lay the track and put in the signalling to complete the extension.
The Bluebell Railway currently runs for nine miles from Sheffield Park to Kingscote but the extension will join it up with the national railway network and potentially attract more visitors.
Roy Watts, chairman of the Bluebell Preservation Society, said the group now had 50 weeks left of the appeal to raise the remaining money.
"The amount of money that has come in this week is truly astounding and the generosity of our members and members of the public cannot be underestimated," he said.